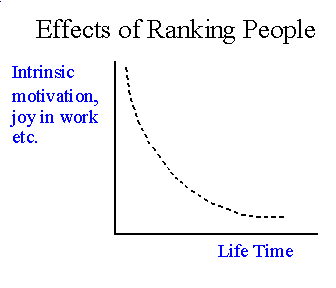 People have learned to adjust to their environments. The work environments of the past used ranking methods for pay increases, political power and promotions..
We have been living in silos, under the restrictions of the historical design of interaction between people, between organizations, between communities. Now we're free.
Business leaders must replace the idea that we need barriers between people and adopt transparency. .
All of the silos must be replaced with new ways to manage people. In The Social Era Management Methods Must:
Understand the meaning of transparency and demonstrate their commitment to it through actions

Help people see how their contributions are valued and how to use the tools of collaboration to maximize value.

Understand that people are different and use this knowledge to develop their abilities to maximize improvements

Be a continuous learner and encourage continuous learning for others in the organization as well as those connected to the organization.

Be a coach and counsel, not a judge.

Listen Understand what customers are saying

Develop and use knowledge, personality and persuasive power in the management of people, and don't rely on authority of office except to remove barriers that imped improvement.

Study conversations and group dynamics to improve as a manager of people.

Try to discover keen insights into customer, employee and supplier expectations then exceed them.

Create an environment of trust to encourage conversations and innovation.

Don't expect perfection, people aren't perfect.

Listen and learn without passing judgment.

Get used to changes and encourage people to make changes.

Understand the benefits of transparency and the losses created by silos between people and groups
The ranking system has now reversed. Instead of companies ranking people, companies, brands and institutions are now being ranked by the people. A conversational thread about a brand or a product can run from one to one to millions at the click of a mouse.
How does your company rank? Not sure? Stay tuned and get connected to find out. Socialutions is not about ranking rather relationships.

What say you?