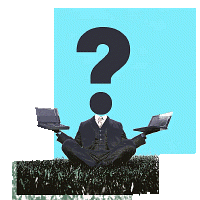 Social technology offers individuals an array of places to establish ones presence in the market of conversations. These places, whether a blog, a social network or an established community, are "what" more and more people are learning about and joining.
Once people and organizations hear "what" it is and "what" it offers they first jump into "whatever" network they are most aware of i.e. Facebook, Linkedin or Twitter.  Next follows a natural question of "what is this and what do I do with it?"
What Is Always The First Question
In the numerous presentations I have given to audiences all over the consistent first questions is "what". What is usually relative to the following issues:
What networks should I join?
What should I include in my profile?
What is the difference between Facebook, Linkedin and Twitter?
What kind of content should I create?
What tools should I use?
What is important to do first?
What are other companies doing well?
What revenue can I create from what?
What is social media?
What should my company do?
The answers to these what questions represent a desire to learn "what" to do. However the knowledge of what is only the first stage of learning and while important what is not the most important.
What Is Important but  How Is More.
People spend a lifetime learning what. Education teaches us what knowledge is required to pursue a profession. A profession requires specific knowledge that when applied creates value for the employer, the market and the individual. Those that exceed in their profession learn what knowledge they need but more importantly learn how to apply the knowledge to create more value for the market which wants their knowledge and is willing to pay for it.  You may have learned "what" is required to do certain things but how you use what you learned is the difference between success and failure.
When people learn "what" all this social stuff is ( and learning what is never ending) the knowledge of "how to use it" to reach specific objectives isn't something that can be learned quickly or by copying what and how others us it.
How Requires New Knowledge
Learning "how" to effectively use social technology isn't about the technology rather it is more about a new system of communications, human behavior and communicating value (knowledge) that an audience is seeking.  The knowledge of "how" is a process of discovery that changes frequently. Knowledge isn't static and neither is human interest.
The "what" questions are usually followed by "how" questions which commonly include:
How do we reach specific audiences?
How do we track interest?
How do we attract our customers and prospects?
How do we create good content?
How do we know if we are doing the right things?
How do we know if we are doing things right?
How much time does it take?
How do we turn these efforts into revenue?
How do we keep up with all this stuff?
How much does it cost?
Since "how" is the most relevant issue to the use of "what" everyone wants quick and cheap answers. It took most professional four to eight years to acquire the "what" knowledge needed to pursue a profession. It takes the rest of your life to learn "how" to apply what you learned and create new knowledge that creates the value that serves your market, your family and yourself.
To learn "how" you need to find the knowledge and the people that know "how" to apply it. They are few and far between. Get it?
What say you?