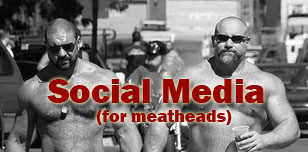 It seems that every firm I meet with says they understand social media and don't need any help.  My response is typically "So what kind of results are you getting from  social media?".
This question usually takes a minute or two to get a response and all along you can tell they are digging to say something meaningful. Typical to human ego's no one wants to get discovered as not thinking and subsequently not having appropriate answers to logical questions.
Then they respond. The answers are usually:
We have a lot of followers on Twitter
Our connections on Linkedin are growing
We're pushing out our company message onto Twitter and Facebook
We're now advertising on social networks
Our agency is managing our content
First of all these are not results rather activities and numbers that are meaningless. Second of all note that the responses do not indicate any comprehension of building relationships or engaging a market rather the efforts are focused on "pushing" messages and collecting numbers.
My second question is always "so what are you learning from your social media activities?". The answers are usually a big stare then they begin to make up stuff and spin their response like a politician running for office.
Can Anyone "Do" Social Media?
The other common response I am hearing in the marketplace is "anyone can do social media for us and they are a dime a dozen". To that I usually say "When was the last time you hired someone else to communicate with your customers rather than you doing it yourself ?" To that the response is usually "Our agency handles our communications and we outsourced customer service".   And I get these answers with no hesitation or thought rather it is like a programmed response not unlike the communications they push out into the marketplace.  See anything wrong here?
How Much Does Ignorance Cost?
Making decisions without knowledge leads to ignorant decisions. Ignorant decisions are costly because when you make bad decisions it cost you money and time to fix the damages, delays and reputation that goes with not making good decisions. Most people will  not be so abrupt as to say you are ignorant but they will say it to their friends. Don't believe it? What do people usually share with their family and friends when their employer, customer or prospect acts ignorantly?  Then what happens when your decisions reflect ignorance because they produce the wrong results and then the results and decisions go public?  The world then knows and your reputation gets damaged and you loose market share.
Don't believe it? Check for yourself as to how many companies have and continue to fail because of stupid decisions and wrong assumptions. Many have and many still will. All social media does is fuel the cycles of failure because now everyone hears about it at the click of a mouse.
It isn't a channel for others to communicate for you. It isn't a task you can farm out. It isn't about collecting numbers or people. It isn't as simple as you think.
So next time someone discusses social media think twice about their capability and yours. If you know what questions to ask you'll learn something. If you don't you'll make bad decisions and risk not knowing.

What say you?