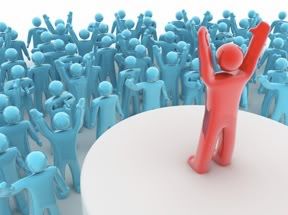 Using social media just because everyone else is does not mean you should, at least not yet.
Before jumping into all the chatter and all the advertising organizations would be better served by asking themselves a series of questions. Finding the answers to the questions will require you to "think" about critical issues which will have serious impacts on the use of social media.
First you need to understand what it should be used for vs. what it shouldn't be used for. To answer these questions you must think about how effective are your current communications, internally and externally. Why? Because communications is the essence of an economy, your economy, and unless you master it you will indeed hurt your economy.
Think About Your Communications
Kevin Kelly writes Because communication–which in the end…… is what the digital technology and media are all about — is not just a sector of the economy. Communication is the economy.
This vanguard is not about computers. Computers are over. Most of the consequences that we can expect from computers as stand-alone machines have already happened. They have sped up our lives, and made managing words, numbers, and pixels quite extraordinary, but they have not had much more effect beyond that.
The new economy is about communication, deep and wide. All the transformations suggested in this book stem from the fundamental way we are revolutionizing communications. Communication is the foundation of society, of our culture, of our humanity, of our own individual identity, and of all economic systems. This is why networks are such a big deal. Communication is so close to culture and society itself that the effects of technologizing it are beyond the scale of a mere industrial-sector cycle. Communication, and its ally computers, is a special case in economic history. Not because it happens to be the fashionable leading business sector of our day, but because its cultural, technological, and conceptual impacts reverberate at the root of our lives.
Results Are Fueled By Communications
The blogosphere is filled with commentary on how to get an ROI from social media. There are dozens of tools to use in measuring your social media campaign and its effectiveness. However measuring the output of social media is like playing tennis by watching the scoreboard, you will loose the game.
Social media is a way to communicate. Unless you know how to communicate in relational terms rather than marketing and advertising terms your result will be failure, wide open and transparent for everyone to witness. Learning to communicate in relational terms goes against everything most people have learned in business. Subsequently before using social media organizations must unlearn and rethink everything they previously learned and thought about relative to communications and market relations.
Using social media effectively demands mind-sets and capabilities that are unfamiliar and sometimes even counter intuitive to many business managers. It requires building  trusting relations with your market, internal and external, rather than enforcing top-down out dated policies. Business managers should allow themselves and the entire organization time to unlearn and rethink everything before they "jumping into" social media.  Most are following those who haven't unlearned and rethought how, where, when,who, why and what they communicate which ultimately produces results, good bad and indifferent.
Results are the end result of how well and what people and processes communicate. You shouldn't use social media until you know how well and what your people and processes communicate to all markets, internally and externally. Using it without knowing this is like jumping out of a plane with no parachute. Splat!
What say you?