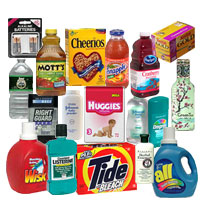 Everyone shops at grocery stores. We need food to sustain life. Ever wonder whether all things social will change the grocery shopping experience?
Below is an infographic illustrating what grocery brands are and aren't using social and what traction they are creating with it. Now look closely and you'll see that Publix has no presence whatsoever within the social graph.  Does it matter? What are the implications and are others creating value using social?
Let's look at these issues further.
Grocery stores contain many brands under one roof. The difference grocery chains represent different experiences based on the environments they create for the shopper and "deals" they offer weekly. Most grocery chains use traditional media to advertise their specials to local geographic communities. They insert fliers into newspapers, send out direct mail to promote this weeks specials and run television ads through local networks. In other words they rely on old media (newspapers are dieing a slow death) and old anti-green coupon models to  pull traffic into their stores. Haven't they heard (WSJ) that the internet has taken over ad revenue from newspapers and print media?
The primary business models for grocery chains are convenience (place and selections), price (deals), experience (service) and environments (ambiance). Each appeals to different consumer markets while some appeal to a variety of consumer markets. For instance I experience (service) and environments (ambiance) of Publix's but when I want to stock up on Diet Coke I'll go to Walmart because they always have the lower price. In my town Publix and Walmart are less than a mile apart from each other.
Social Media & Grocery Chains
One wonders how social media could apply to creating value for grocery chains. Given the early stages of social media today most chains haven't figured out the value but some sense the need to be present and expect future developments will create  ways to apply the medium to the grocery shopping experience. At the same time brands within grocery stores seem to be going direct to consumers using social technology.
One of the main reasons for this is that brands often uploads unique deals to their Facebook Fan pages or Twitter accounts which are restricted to its followers. Doing so enables the brands to create brand awareness, stir conversations and create incentives for sharing while also providing the brand with valuable customer data. Some examples:
Oreo, Kraft's cookie line, completed the top five, with 4.7 million supporters on Facebook.
Red Bull has made the biggest impression on YouTube, with nearly 69,000 people having taken on the status of "subscribers" and viewing a variety of interviews, ads and extreme sports clips. This is supplemented by the energy drink's four million fans on Facebook.
Should Brands & Grocery Stores Collaborate?
It would seem logical and efficient that if grocery stores and brands collaborated on use of social media to drive traffic to a store and purchases of brand incentives both entities would win. Sub-optimizing the efforts means both entities are spending more and being less effective. Then again such collaboration may cause channel conflicts for the brands in terms of reaching relevant consumers with relative messages. Would it be a Walmart or Coca Cola message? Why not one message from both but the channels maybe different by place and time intervals.
The future of social media will evolve into productive mediums, methods and cross functional modes of promotion. Envision your credit/debit card provider informing you, via mobile or on-line messaging, that brand X and store Y have a special this week and that special coupon or incentive can be downloaded to your debit/credit card at the click of a button. If you make the purchase of brand X at store Y then the discount or incentive will automatically be applied to your purchase. What if you then were able to share these incentives with your friends and direct deposit said incentives to their cards?
Just maybe the innovation for grocery chains is not only innovative uses of social media but with social currency as described. If so then the market might ask Publix, where are you?
Based on the data listed above it would seem as though Walmart and Target are best positioned to pull more customers. What say you?