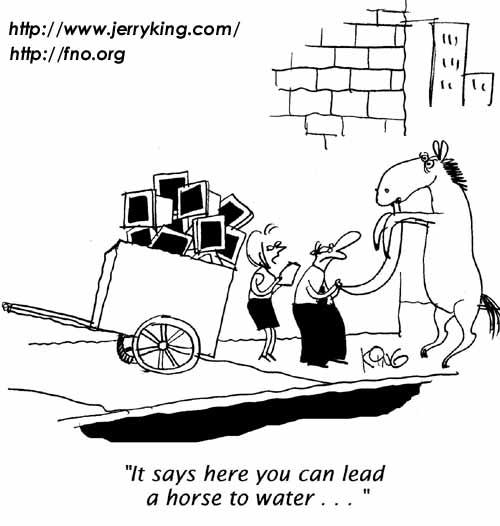 As we all know, the old expression "don't put the cart before the horse" is a metaphor about making sure that we have our priorities straight. It is obvious that organizations now focusing on "social strategies" have indeed got the "cart before the horse".
According to a recent survey by the Internet Advertising Bureau, only a fifth of marketers in well know organizations  view social media as a core element of their marketing strategy. One reason quoted by the report is the difficulty of demonstrating return on investment, but yet everyday we're seeing a proliferation of opinions about "social strategies" as the core for effectively using all things social.
Using Old Strategies With a New Medium Doesn't Work
As Marshall McLuhan – observed, whenever a new medium comes along our first instinct is to force existing content to fit it, no matter how ungainly the result ends up looking. You know the scenario. Management  asks "And what can we do on Twitter?" The inevitable result is a push out old message that are irrelevant to people.
This kind of thinking reflects "the celebration of technique over intellect". When we're not blindly putting the media cart before the content horse, we're assuming that people are as interested in an organizations product as the organization. Doc Searls said , "markets are conversations" and organizations think this means "That's enough about me, let's talk about me."

Time to Change Beliefs….Philosophy
Many executives don't take the time to think or learn what to think. Instead they simply react to market changes and apply old thinking to solutions they think will help them take advantage of the changes. That represents "stinking thinking from the neck up".
Luis Suarez says:  Having the same mind set about social networking inside the corporate world, as the one we have been having for decades is not going to get us very far! Quite the opposite!
Focusing on the financial's alone of social computing and how it can help us generate more business revenue, i.e. focusing just on the numbers, on keeping the stakeholders happy, on using the same business models as last century's is just going to help us get back into the same position we are nowadays in with this horrendous financial global crisis we are going through for a couple of years and still going strong. Hard to see the light at the end of the tunnel at the moment …
We need some fresh thinking; we need to break the barriers of how business has been conducted in the last few years; we finally need to break free from that financial yoke and eventually strike for that sustainable economy that everyone keeps talking about, but that doesn't seem to come along as quickly as we thought. It keeps slipping away from our fingers, when we know it's just so close to us! We need to stop thinking about social strategy and push more along the lines of social philosophy.
Are you ready? Will you join the Hippie 2.0 movement? Not to worry, take your time. Whenever you are ready, we will be waiting for you … With open arms, wanting to continue making a difference. For everyone. Not just for your business.
Luis said it all.
Tags: Social Strategy, Social Philosophy, Starbucks, Enterprise 2.0 Conference,